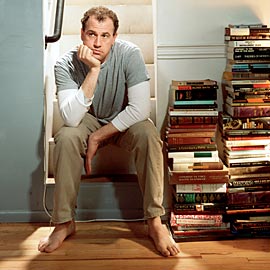 Today's the last day to file a class-action claim against James Frey. If you bought
A Million Little Pieces
on or before January 26, 2006, you're entitled to some money. Go
here
to file before midnight and get some.
If you feel guilty, don't-- you can always use your cut to buy Frey's new novel,
Bright Shiny Morning
, for which he was
reportedly
paid one milllion dollars.
The score thus far:
James Frey: 1,000,000
Truth: 0
Update
: The Smoking Gun (which originally broke the whole escapade) has the fiscal information
here
.
P.S. Avoid Frey's new novel and instead buy one of the J.T. Leroy-inspired
raccoon penis bone necklaces
. (Carefully cast out of silver to avoid any cruelty to raccoons. Now if only we could get some made as
pewter charms
.